Estimados coforistas
Abrimos un tema relacionado a la modernización anunciada por la Fuerza Aérea de Chile para proyectar sus F-16 hasta 2040.
Para que ello sea posible, se deben ir manejando obsolescencias técnicas y logísticas mediante recambio de componentes a lo largo de la vida útil de las dos versiones del SDA F-16 operados, la AM/BM Bloque 15 y la C/D Bloque 50. Por esa razón, como solución de largo plazo, la industria propone la convergencia logística de todas las versiones que sigan en operación:
Como primer antecedente del upgrade fue la consulta de precios a via DSCA de equipos principalmente de comunicaciones asociados a una operación conjunta bajo un contexto de una red ADGE:
CHILE – F-16 MODERNIZATION
PDF Version:
chile_20-28.pdf
Media/Public Contact:


[email protected]


Transmittal No:
20-28
WASHINGTON, July 23, 2020 - The State Department has made a determination approving a possible Foreign Military Sale to the Government of Chile of equipment and related services for F-16 Modernization for an estimated cost of $634.70 million. The Defense Security Cooperation Agency delivered the required certification notifying Congress of this possible sale today.
The Government of Chile has requested to buy equipment and related services for F-16 Modernization to include: nineteen (19) Joint Helmet-Mounted Cueing Systems (JHMCS); six (6) inert MK-82 (500LB) general purpose bomb bodies; two (2) MXU-650KB Air Foil Groups (AFG); forty-four (44) LN-260 Embedded GPS/INS (EGI); forty-nine (49) Multifunctional Information Distribution System Joint Tactical Radios (MIDS JTRS). Also included are avionics and Mode 5 equipment and software upgrades, integration, and test; software and software support; ARC-238 Radios; Combined Altitude Radar Altimeters (CARA); Joint Mission Planning System (JMPS) support; Identification Friend or Foe (IFF) AN/APX-126 Combined Interrogator Transponders, cryptographic appliques, keying equipment, and encryption devices; weapon system spares and support; bomb components; High-Bandwidth Compact Telemetry Modules (HCTMs); secure communications and precision navigation equipment; aircraft displays; additional spare and repair/return parts; publications, charts, and technical documentation; integration and test equipment; U.S. Government and contractor engineering, technical and logistical support services; and other related elements of logistics and program support. The total estimated program cost is $634.70 million.
This proposed sale will support the foreign policy goals and national security objectives of the United States by improving the security of a strategic partner in South America.
The proposed sale will improve Chile's capability to meet current and future threats by modernizing its F-16 fleet, which will allow Chile to maintain sovereignty and homeland defense, increase interoperability with the United States and other partners, and deter potential adversaries. Chile will have no difficulty absorbing the upgrades into its armed forces.
The proposed sale of this equipment will not alter the basic military balance in the region.
The principal contractor will be Lockheed Martin, Bethesda, MD. There are no known offset agreements in connection with this potential sale.
This notice of a potential sale is required by law and does not mean the sale has been concluded.
All questions regarding this proposed Foreign Military Sale should be directed to the State Department's Bureau of Political Military
Affairs, Office of Congressional and Public Affairs,

[email protected]

.
https://www.dsca.mil/major-arms-sales/chile-f-16-modernization
+
Dado el COVID el plan inicial de modernización se posterga, pero se consigna que es de desarrollo plurianual:
Ello, hasta hace 3 días, momento en que aparece la noticia de la autorización a Chile para modernizar sus F-16 al estandar "V" o Viper:
Fixed-Wing
Joint Helmet Mounted Cueing System II starts flight testing in Lockheed Martin F-16V
By Garrett Reim
4 August 2020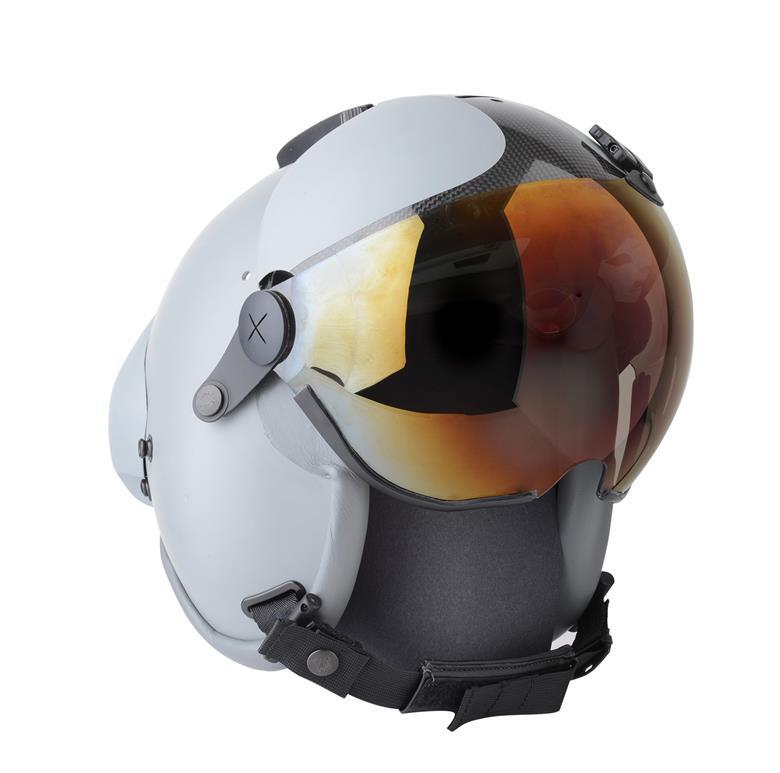 Collins Elbit Joint Helmet Mounted Cueing System
Source: Elbit
Collins Elbit Vision Systems has started flight testing its Joint Helmet Mounted Cueing System II (JHMCS II) in the Lockheed Martin F-16V.
The flight tests are part of the US Air Force's military flight release process, says the company on 3 August. The helmet has already passed safety qualification testing, including sled, tower and windblast tests.
So far, the JHMCS II is the only helmet mounted display integrated and tested on the F-16V, the upgraded version of the fighter. The helmet is also to be integrated into F-16 Block 70/72, a new-build version of the fighter based on the new capabilities offered in the "V" upgrade package.
The helmet comes with a number of features including visor-projected symbology and night vision goggles. The device allows pilots to fire off-boresight missiles, such as the Raytheon AIM-9X Sidewinder. Such off-boresight missiles can be fired at enemy aircraft that are not directly in front of a fighter using a visual cueing system that follows the pilot's head as it turns.
The helmet is manufactured by Elbit Vision Systems, a joint venture between Collins Aerospace and Elbit Systems of America.
"JHMCS II is designed to increase lethality, mission effectiveness and pilot safety," says Raanan Horowitz, chief executive officer of Elbit Systems of America. "The helmet mounted display's improved centre of gravity reduces neck strain which increases pilot safety and comfort."
The F-16V and F-16 Block 70/72 comes with an APG-83 active electronically scanned array radar, automatic ground collision avoidance system, infrared search and track, and a more robust mission computer, among other improvements.
New-build F-16 Block 70/72 are on contract from Bahrain, Bulgaria and Slovakia.
The US State Department has also approved Morocco and Taiwan to buy F-16 Block 70/72 aircraft. Chile, Morocco and Taiwan are also approved to upgrade older fighters to the "V" variant. Taipei signed a letter of offer and acceptance for the "V" upgrades in December.
https://www.flightglobal.com/fixed-...sting-in-lockheed-martin-f-16v/139625.article
En tal sentido, se espera proceder con el upgrade de electrónica en la presente década, manteniendo aún indefinidos sus alcances.
Saludos
Última edición: